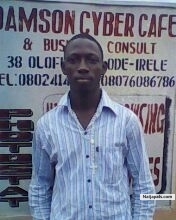 victorayotunde
TRIBUTE TO MY LATE MUM
Oct. 14th 08:30 AM 2010
Thank you, Mum, for being an example of hard work and principled living.. Thank
you, Mom, for making our house a home Thank you, Mum, for wholeheartedly loving our family even though you had a hard time expressing it.Thank you for putting up with me during the difficult teen years.
Thank you for being proud of me. You express that often and it means a great deal to me!Thank you, mum, for praying for me.I write this Tribute to say a big "thank you" for being my "MUM" and to say "I love you!" R.I.P. MOTHER OF ALL.