Play on profile Download


Rating: 3.7/5 average , 7 ratings







problems? Email us at: music[at]naijapals[dot]com

Embed Code

Comments on this music

Drop your comment

Sorry, guests can not post comments | Register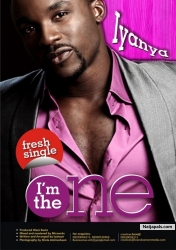 Am the one
by Iyanya
MTN Project Fame West Africa Season I winner
Iyanya is back with two new singles. The songs -
&quot I' m The One&quot and &quot In Love
Again&quot and will be featured on his forthcoming
sophomore album. Iyanya recently inked a
management deal with Buzz Avenue and is currently
in the studio working on the rest of his new
album. Both singles were produced by Wazz Beats.
Related
gift
by Iyanya Ft. Don Jazzy
Played 11309 times

glow
by Dj Tunez Featuring Iyanya & Khago
Played 3119 times

finito
by Iyanya
Played 9978 times

mr oreo
by iyanya
Played 5675 times

freestyle
by Iyanya x Ice Prince
Played 7815 times

my lane
by Bayoz Muzik ft Iyanya, Emma Nyra
Played 3056 times

mr oreo
by TripleMG ft Iyanya
Played 7618 times

say yeah
by TrippleMG ft. Iyanya, Emma Nyra, Tekno, Selebobo, Baci
Played 10570 times

ekomo
by EffJay ft. Iyanya
Played 4284 times

angelina
by TripleMG ft. Basi, Iyanya, Tekno
Played 5017 times

amber rose
by Mr Chiddo ft. Iyanya
Played 4123 times

away
by Iyanya
Played 20972 times

weather
by StormRex – Weather ft. Iyanya
Played 5653 times

mambo
by Sexy Steel ft Iyanya
Played 6568 times

loyalist
by DJ Kaywise Ft. Iyanya
Played 3808 times

ride out
by Angel x Iyanya
Played 12304 times

shashiwowo refix
by DEEJAY T FLOW FT solidstar,Iyanyan-Shashiwowo WWW.DJ T FLOW.COM REMIX90%
Played 1491 times

Same Category
Format
by Dudu Miyaki
Played 5703 times

Aye Mi
by Rubben Stunner
Played 5300 times

go-slow
by pharheed
Played 413 times

MA JEN JIYA
by MONEYGAME fT RABANI (PROD.BY FAKTOR)
Played 724 times

Shake am
by Young Paperboyz ft RacenNext (Naija Boss Mixtape)
Played 5006 times

Imagine
by T Money
Played 11933 times

SHANGALO
by NG Onyeukwu NGizzy
Played 203 times