DJ Nosmas - Thank God am Black(Extraordinary Talking Drum Style)Prod By DJ Nosmas (With Lyrics)
2216 plays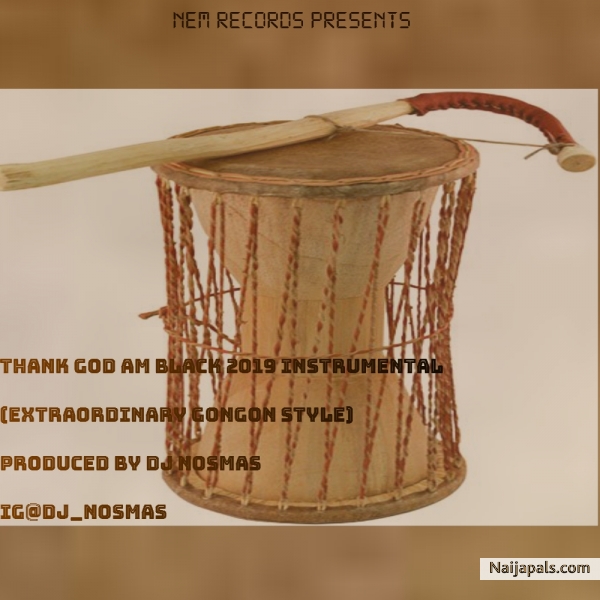 The Ace Producer DJ Nosmas,Extraordinary Beat Maker who is currently Africa's Most Searched Disk Jockey 2019,Famous for making Free Instrumentals (NEM)Record Label Boss.
Has made the Best Instrumentals this Year so far.
Instrumentals Monthly Free Gift started Last Month August 2019 by the Beat Maker and for sure DJ Nosmas beats rocks the internet 2019.
But now DJ Nosmas is here with the Hardest/Dopest Instrumentals for the Instrumentals Monthly Free Gift September Edition 2019.
Google Africa Most Recent DJ has celebrated himself with this Instrumental saying "Thank God am Black" this Instrumental will motivate every Blacks in the World,there is no Limitation to what you can become.
DJ Nosmas is Google Most Searched Disk Jockey in 2019 and he is Proud he is African,Born in Nigeria, he came to Light in 2019,he is the Best Beat Maker the World has ever Known.
He has ceiled that with this Extraordinary Instrumental thats Master Kg Black Instrumental Type but he Spiced it up,making it more Extraordinary with "Talking Drum Styles".
This Dope Instrumental is the 5th(Last) Track in the "Instrumentals Monthly Free Gift September 2019 Edition"
You dont wanna miss this Instumental.
Track Name_Thank God am Black(Extraordinary Talking Drum Style)Prod By DJ Nosmas
Instrumentals Monthly free Gift Track Number_4
Track Tempo_130BPM
Track Key_A
Duration_4minutes 35seconds
Contact DJ Nosmas
[email protected]
Call/Whatsapp-+2349096905160
[email protected]_nosmas
[email protected]_nosmas
Fb Fan Page_Nosmas Entertainment World.

Watch Thank God am Black(Extraordinary Talking Drum Style)Prod By DJ Nosmas Music Video By DJ Nosmas
Please pause audio player above before playing video below:
No one likes this music yet
Naija Songs / Nigerian Music
Related
Top Songs