Naijapals music /

Sip Something part 2 - BIMJIMMY


Play This Music On My Profile


Rating: 2/5 average , 1 ratings







problems? Email us at: music[at]naijapals[dot]com

Add To Your Website/Blog With This Embed Code:

Comments on this music

Drop your comment

Sorry, guests can not post comments | Register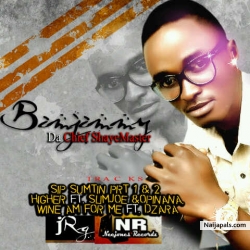 Sip Something part 2
by BIMJIMMY
Ogunjimi Abimbola Oladipupo, a fast rising Afro
Hip Hop Artist (musician) Popularly Known As
BIMJIMMY Da Chief a.k.a Shayemaster born In 1980s
in Ijebu Area of Ogun State. BIMJIMMY has his SIX
(6) promoted hot new hit singles titled SIP
SOMETHING part 1 & 2, HIGHER ft Slim joe (Oti
yan yan), MOVE UR BODY ft Dzara, WINE AM 4 ME ft
Dzara, COUNT MY DOLLAR setting the roof ablaze all
over the country from the stable of NEEJONES
RECORDZ. BIMJIMMY was signed with Neejones Recordz
and BIMJIMMY his making wave in the Nigeria Music
Industry with his outstanding unique melody voice
& style of singing. BIMJIMMY is the hottest
Afro Hip Hop Artist & dance hall master. For
contact 08072812719 & 08051634855.
Related
omoge miliky
by NeeJones Ft BimJimmy Da Chief Shayemaster
Played 1015 times

jaye ori e
by TeeJay Ft Bimjimmy Da Chief
Played 293 times

higher
by BIMJIMMY FT SLIMJOE & OPINANA
Played 4855 times

wine am 4 me
by BIMJIMMY SHAYEMASTER A.K.A DA CHIEF FT DZARA
Played 4557 times

follow me
by TOBEXJIM FT BIMJIMMY
Played 4657 times

Same Category
Terrified
by Katherine McPhee
Played 4434 times

time
by pink floyd
Played 4465 times

The Itch
by Element Eighty
Played 4369 times

AFRICA
by ONELOVE
Played 4406 times

Agnes
by MR DEE
Played 4259 times

HOLD ME
by JESSY MALLUMS
Played 4366 times