Nigerian music /

Sip Something part 2 - BIMJIMMY


Play on profile


Rating: 2/5 average , 1 ratings







problems? Email us at: music[at]naijapals[dot]com

Embed Code

Comments on this music

Drop your comment

Sorry, guests can not post comments | Register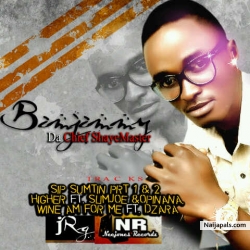 Sip Something part 2
by BIMJIMMY
Ogunjimi Abimbola Oladipupo, a fast rising Afro
Hip Hop Artist (musician) Popularly Known As
BIMJIMMY Da Chief a.k.a Shayemaster born In 1980s
in Ijebu Area of Ogun State. BIMJIMMY has his SIX
(6) promoted hot new hit singles titled SIP
SOMETHING part 1 &amp 2, HIGHER ft Slim joe (Oti
yan yan), MOVE UR BODY ft Dzara, WINE AM 4 ME ft
Dzara, COUNT MY DOLLAR setting the roof ablaze all
over the country from the stable of NEEJONES
RECORDZ. BIMJIMMY was signed with Neejones Recordz
and BIMJIMMY his making wave in the Nigeria Music
Industry with his outstanding unique melody voice
&amp style of singing. BIMJIMMY is the hottest
Afro Hip Hop Artist &amp dance hall master. For
contact 08072812719 &amp 08051634855.
Related
omoge miliky
by NeeJones Ft BimJimmy Da Chief Shayemaster
Played 1343 times

Same Category
rOdGeR dAt
by yung money ft tfabz :P
Played 4675 times

lost
by micheal buble'
Played 4706 times

soulmate
by natasha bedingfield
Played 4849 times

Next to you
by Mike Jones(Ms gorgeous)
Played 4663 times

ride or die
by ace hood feat trey songz
Played 4884 times

love
by da prince
Played 4818 times

YG
by MY NIGGA REMIX
Played 244 times

joromi
by easystar
Played 385 times